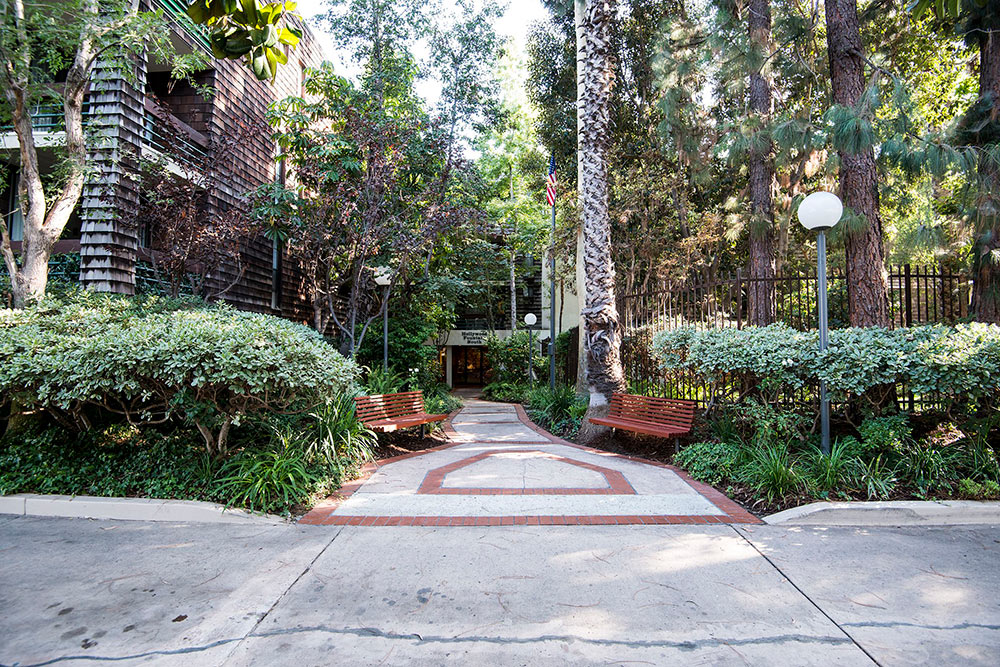 If you need to cheat a more rustic setting than the usual LA apartment building this is your location. The exterior as well as the common areas inside can cheat Idaho, Colorado, Lake Tahoe, Big Bear or any woodsy location. The really good part is the reverse is the "sister" building that looks exactly the same.
As you walk through the lobby and enter the television lounge, you feel that same "not in LA" feeling. It carries you through the rec room complete with pool table & into the exercise area. You exit the exercise room through a glass door and enter the barbeque patio. Surrounding the sitting & eating space is a gate that encloses a park like area with the appropriate foliage.
Available for shooting is a wonderful two – bedroom apartment – located conveniently on the first floor. The apartment has two entrances; one off of a hallway and the other through the manager's office.
There are terrific pathways around the building that lend themselves to chase scenes and places to discover bodies. The roof is also available for filming.
CLICK ON ANY IMAGE BELOW FOR A LARGER VIEW
USE THE BUTTON BELOW TO BOOK THIS PROPERTY, REFERENCE FILE #91-4
Other Apartment Properties